Tigers are now 18-3!!!

The Ignite Clinic at Mississippi State University strives to help students in the state of Mississippi build basic reading, writing, and spelling skills. Thanks to funding provided by the Governor's Emergency Education Response (GEER), their services are free for Mississippi public school students who are behind in reading. Each student receives two one-hour sessions per week to build upon their reading skills. Currently, services are available virtually to serve the entire state of Mississippi. For more information, please visit:
https://tinyurl.com/ignitereadingsurvey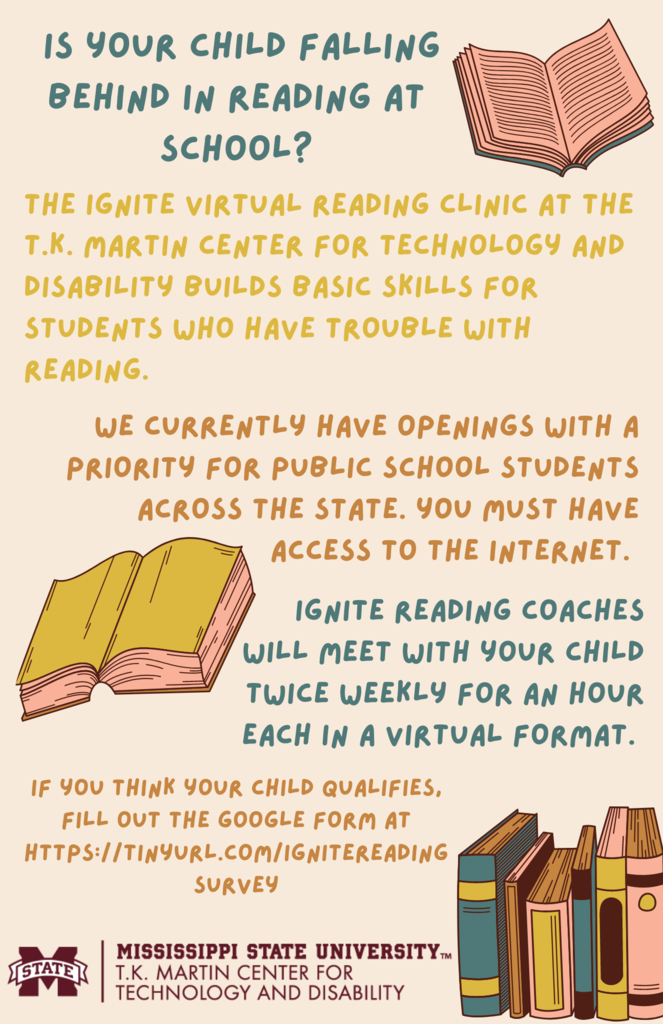 From the WMCSD Office of Support Services: Thanks to funding from the MS Council for Developmental Disabilities, the MS Council on Economic Education (MCEE) is offering Family Financial Fun Nights for children with intellectual and/or developmental disabilities and their families. Due to COVID, these events will be offered virtually in the evenings using Zoom. The Family Financial Fun Night is a virtual event for children with intellectual or developmental disabilities and their parents/guardians to learn about money, budgeting and wants vs. needs. The content is for K-5 students, but parents of older children may choose to have their child participate. Families will join the event via Zoom and will be led through the five activities by a representative of the MS Council on Economic Education. At the end of the five activities, the parents will receive a short presentation from Mississippi ABLE about ABLE savings accounts (MS Department of Rehabilitation Services). The materials for the event will be provided in advance via mail. Date (you will choose one) - Monday, February 15 Wednesday, February 17 Thursday, February 18 Location-Virtual using Zoom (the link to join will be provided after the family has registered for the event) Time: 5:30pm-7:30pm The materials needed for the program will be mailed to the child's home in advance of the program. You can see what these materials look like at
https://youtu.be/JF-Cau7gw0E
**Parents MUST accompany their children for the duration of the event.**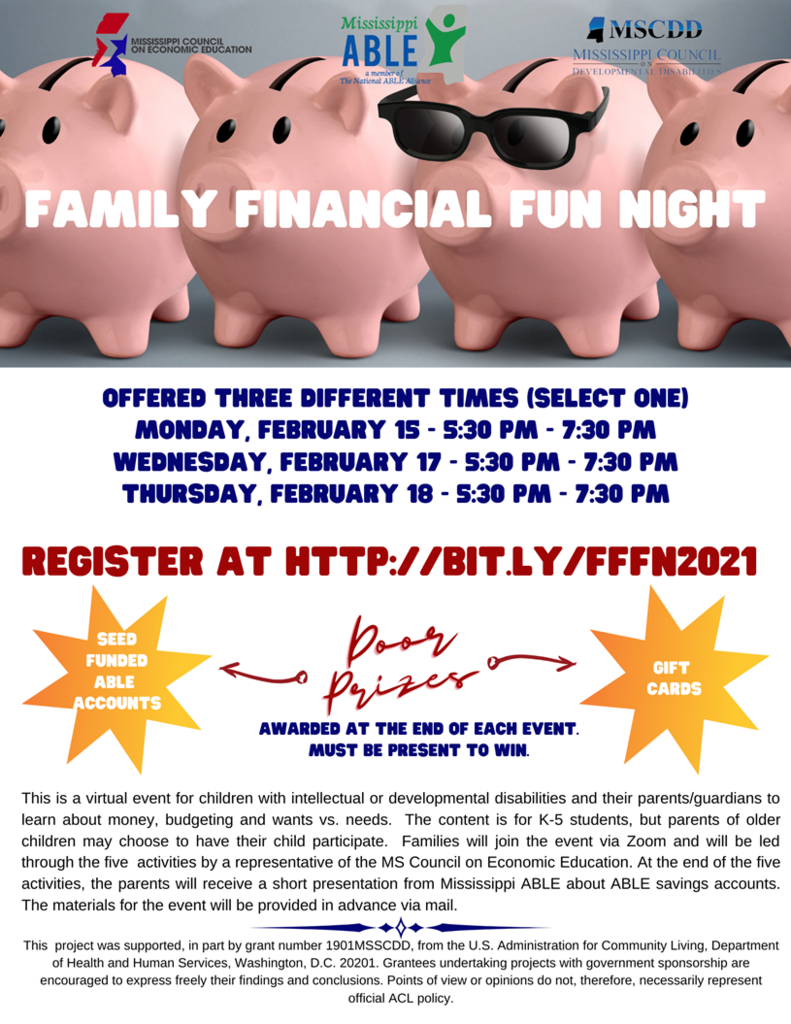 Lady Tigers are District Champs!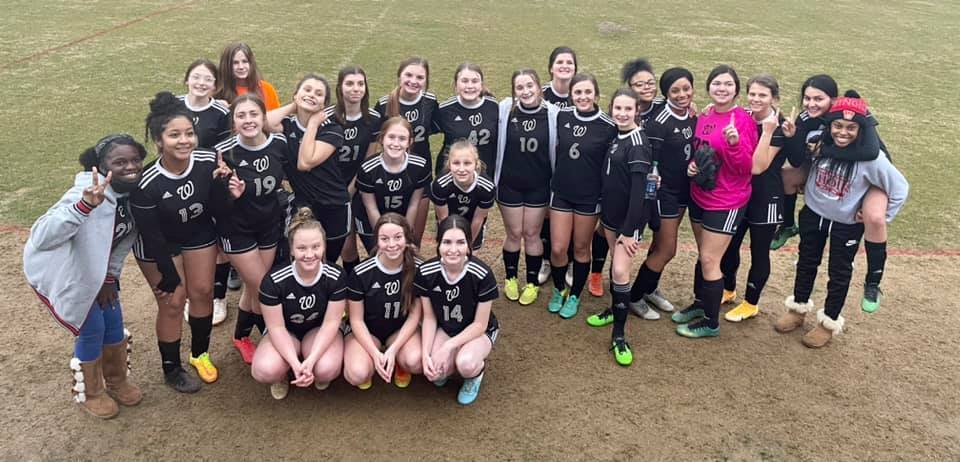 It's been 100 days of school.........with Mrs. King's class!!!

Mrs. Austin's Star Math Growth: (Back) Hattie Grace Maloney + 122, Vicoria Meeks +76, Ty Bennett +61, Dariyah Moore +101 (Front) Madison Johnson + 53, Jessica Pearson +43 Awesome!!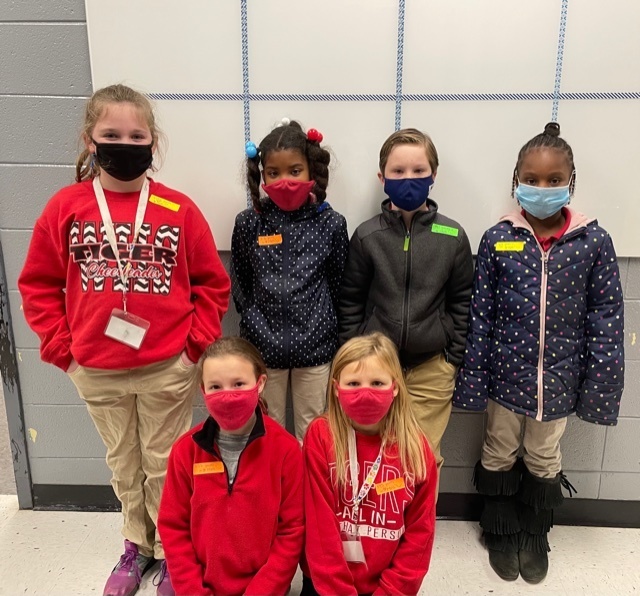 Health Sciences writes notes and encloses a hot chocolate kit complete with a peppermint spoon in preparation for winter break for Legacy Hospice patients.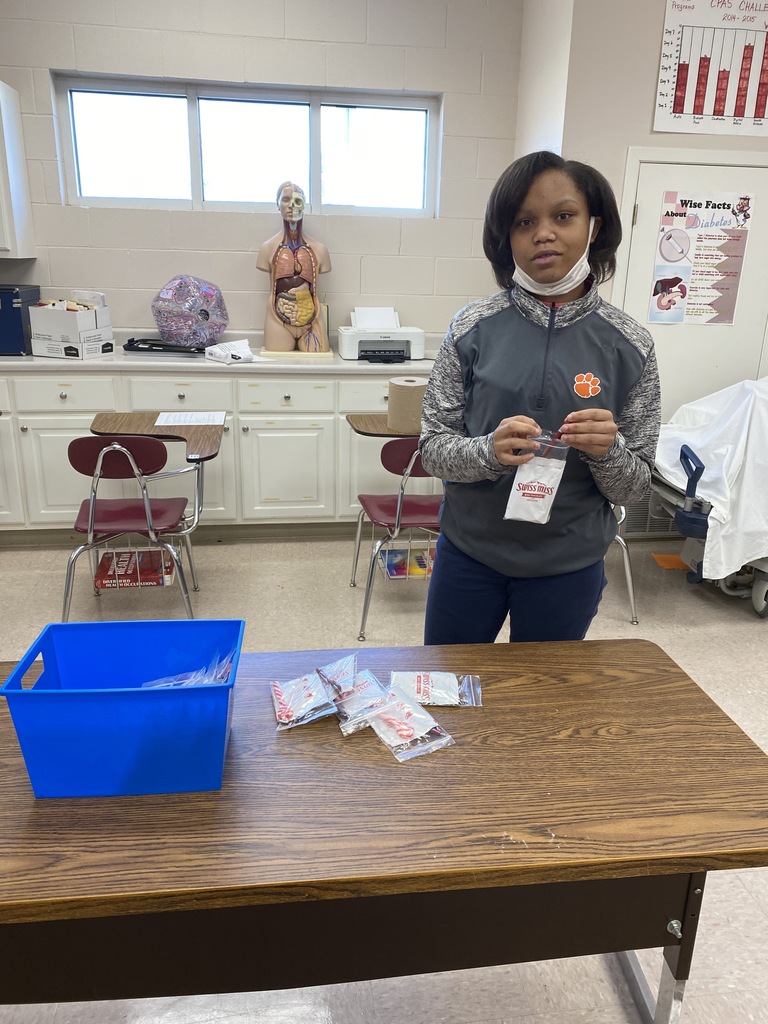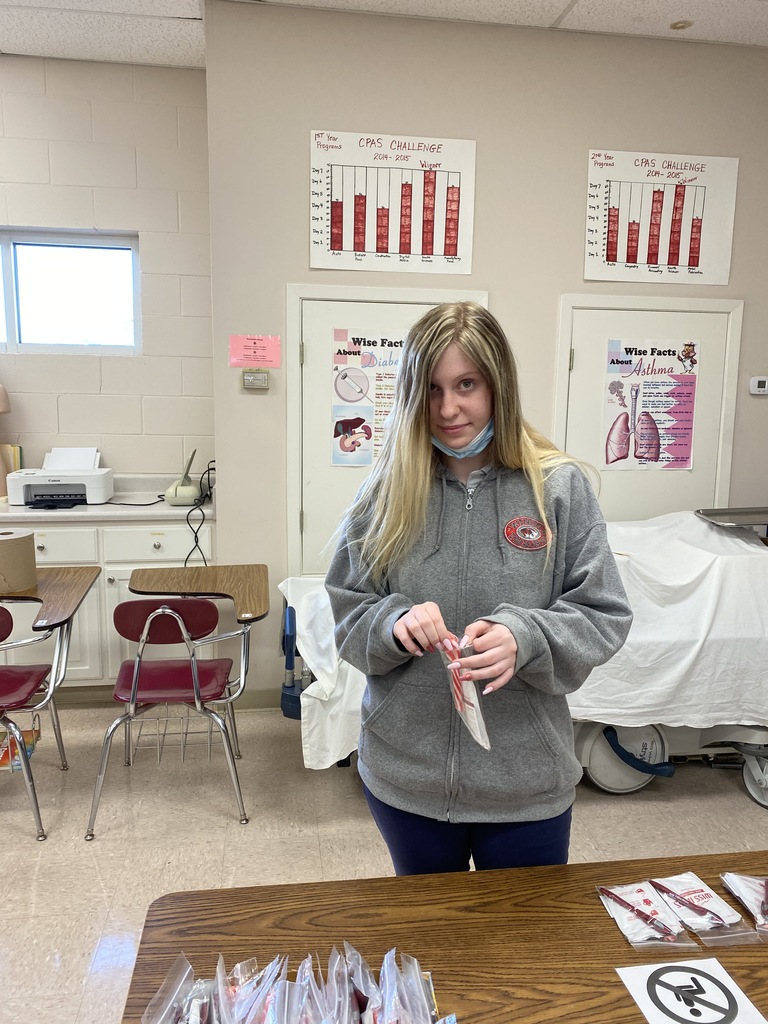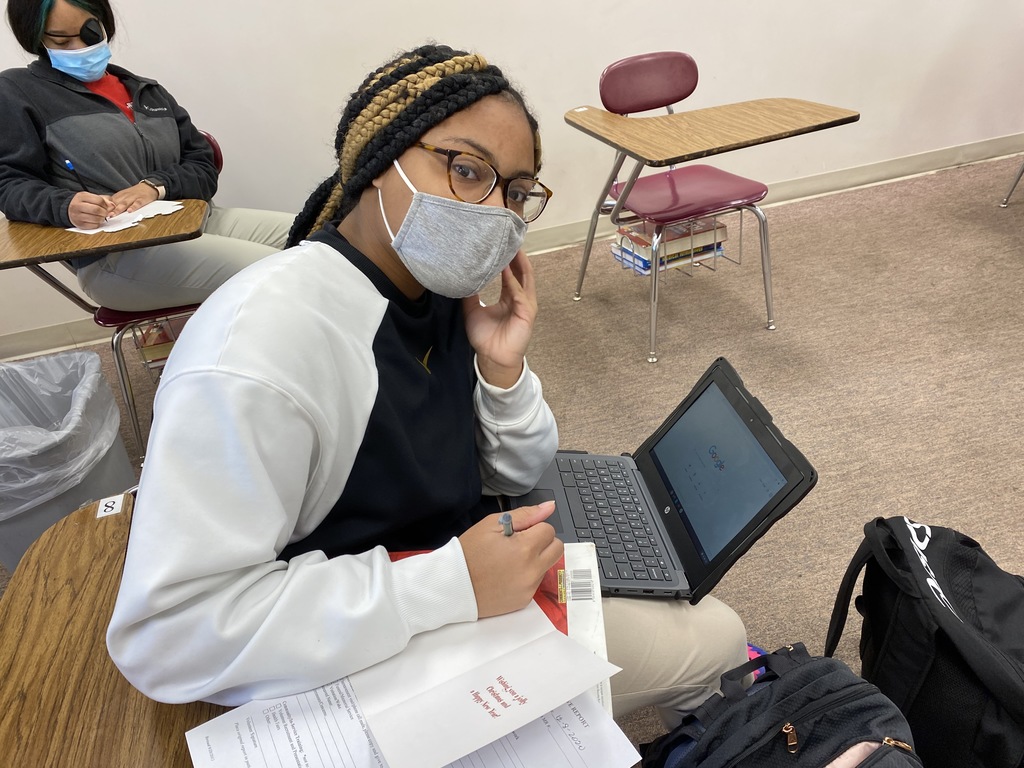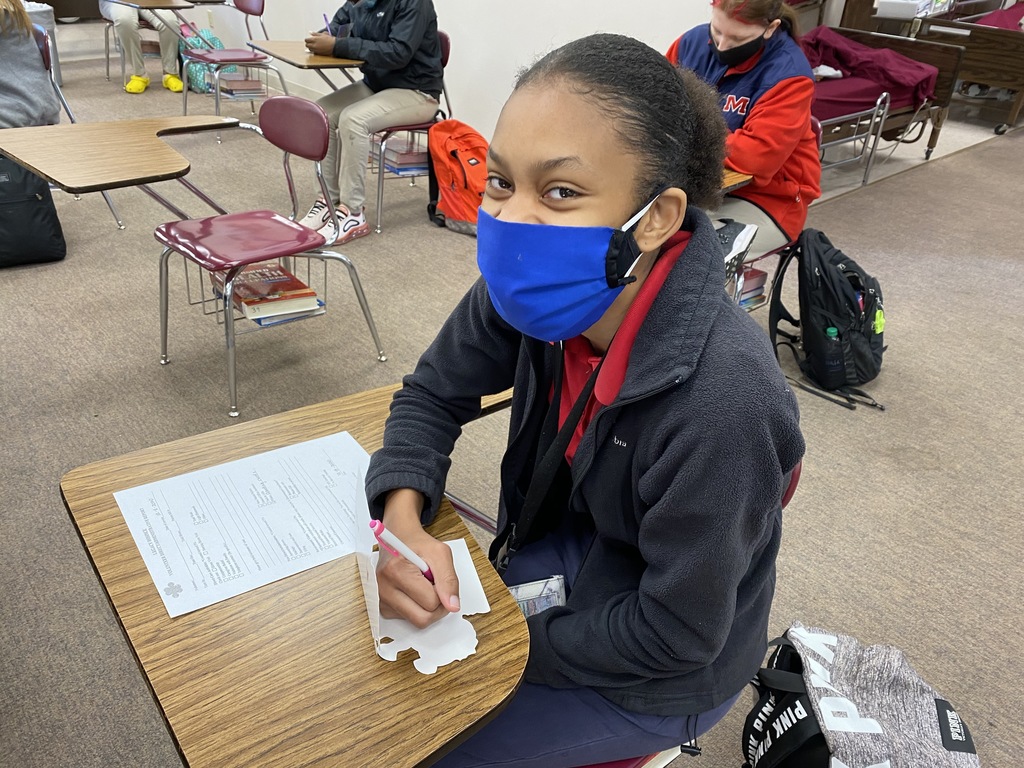 From the Support Services Office: Supporting Early Childhood Development: Turn Everyday Moments into Brain-Building Moments The Child Health and Development Project: Mississippi Thrive! is a collaborative project of Mississippi State University's (MSU) Social Science Research Center (SSRC) and the University of Mississippi Medical Center's (UMMC) Children's of Mississippi and is funded by the Health Resources Services Administration (HRSA). Our mission is to improve the developmental health for young children (birth to age 5) in Mississippi. About one in six children experience developmental delays, but thankfully, identifying and addressing these delays early helps them have more successful outcomes. Our goal is to increase the number of families who experience all elements of a quality developmental health system. In this webinar we will discuss the importance of early childhood brain development and how adults can support young children's brain architecture using tools like Vroom®. We will also share resources from our website for both families and professionals. When our children thrive, Mississippi thrives! Presented by: Heather Martin Vroom Coordinator Child Health Development Project/Mississippi Thrive Tiara Love Research associate Social Science Research Center Mississippi State University Bradley Long Research Associate Family & Children Research Unit Social Science Research Center Mississippi State University January 19, 2021, 12pm - 1pm CLICK HERE TO REGISTER:
https://register.gotowebinar.com/register/4517244977316618256

Star Reading growth points from Mrs. Austin's 2nd grade class: Back row- Ty Bennett- 83, Cameron Singh- 132, Ruben Guzman- 260!!!, Arniyah Crowley- 73 Front row- Hattie Grace Maloney- 59, Jaidah Jackson- 100, Victoria Meeks- 85, Skylar Serio- 82, Madison Johnson- 72 Great job!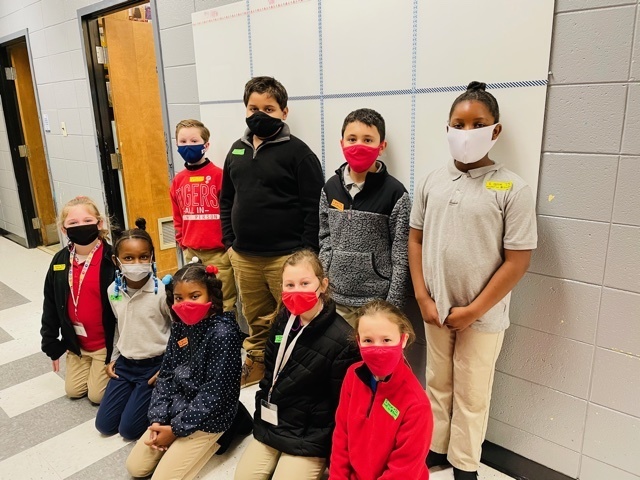 *SUPPORT SERVICES SPOTLIGHT* Savanna Jackson is a 3rd and 4th grade inclusion teacher at Winona Elementary School. She is a graduate of the University of Mississippi with a bachelor's degree in Elementary Education with an endorsement in special education. She is currently working toward a master's degree in Dyslexia Therapy through Mississippi College. "I currently reside in Winona, MS with my husband Tanner and son Sykes. I am so thankful for the opportunity to teach at WMCSD and be a part of the Tiger family!"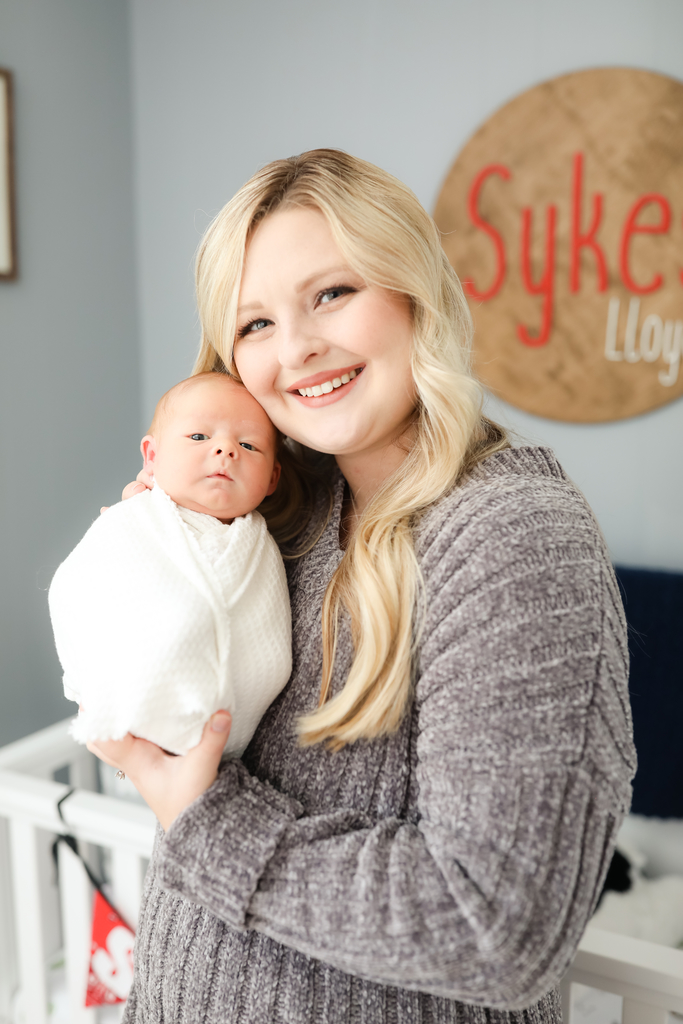 *SUPPORT SERVICES SPOTLIGHT* Corey Miletello is employed as the WMCSD social worker and serves both Winona Elementary and Winona Secondary. She graduated from Holmes Community College in 2010 with an Associates in Psychology. In 2012 she graduated from Delta State University with a bachelor's degree in Social Work. She then continued to the University of Alabama where she graduated with her master's degree in Social Work in 2014. She is currently a Licensed Master Social Worker for the state of Mississippi. She is also in the supervision process required to obtain her clinical social work license which is on track to be completed in 2021. "I have been married to my husband for 8 years. We both grew up in Grenada, MS, but we moved to Winona about 4 years ago when he began working in town. We have 3 beautiful children in Heaven (Blaire, Ethan, and Owen), and we have a sweet little one on the way. We also have 2 rescue pups and a hamster (our "class pet" before COVID) who are completely rotten! I am very close with my family. I spend most of my free time with them or cuddling on the couch with my pups. Since graduating in 2014, I have worked in several social work roles. I have been a mental health therapist for both inpatient and outpatient facilities for multiple hospitals. I have also worked as a medical/case management social worker for UMMC Grenada. I started working for WES in January 2020 when I obtained my emergency teaching license. From January to May I worked as a self-contained special education teacher. When the position for a district social worker became available, I decided to apply because, as much as I loved my class, I wanted to be able to reach out and help as many students as I possibly could. When I describe my role to our students, I tell them that I have the best job in the whole school because my main responsibility is to help support and celebrate them. I get to do a little bit of everything from working with teachers and students on behavior plans to helping students with difficult situations through problem solving and emotional support. I also get to have a role in helping to support and celebrate our amazing teachers and staff at WMCSD. As I was growing up, both of my parents were teachers. I knew how hard they worked, and I never imagined I would work in a school. Now, I can't imagine working anywhere else!"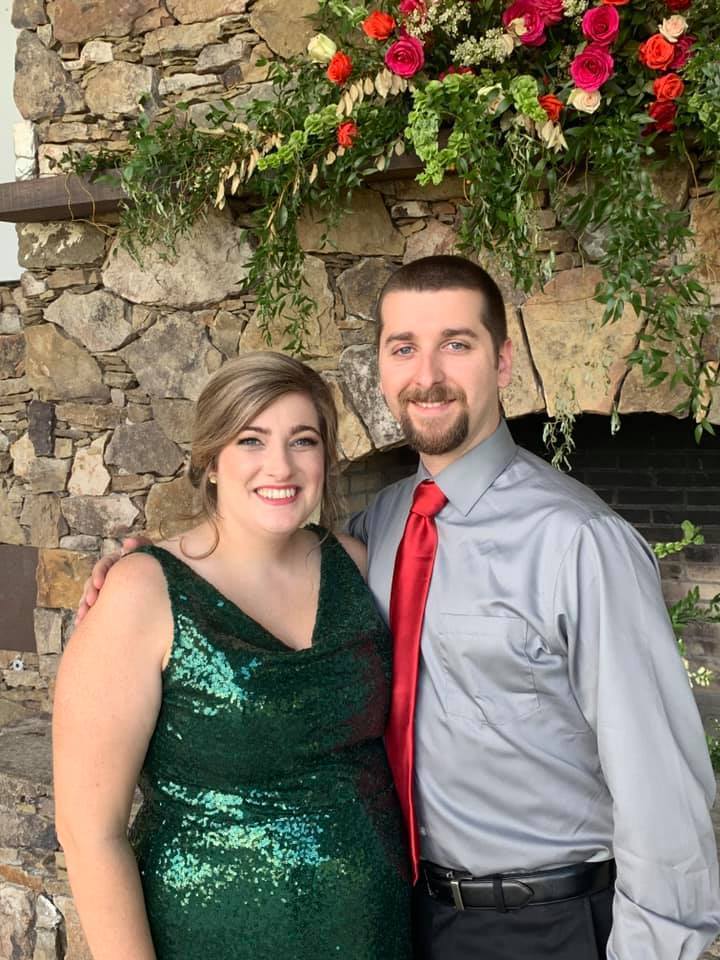 *SUPPORT SERVICES SPOTLIGHT* PJ Harville is the 7th grade inclusion teacher at Winona Secondary School. This is his 13th year in education and his 4th district in which to work. He has taught a few different courses in the past 12 years: Pre-Algebra, Compensatory Math, 7th grade Math, 7th grade History, MS Studies, Health, High school Physical Education, and Elementary Physical Education. "Teaching is a passion of mine because of what can be accomplished when you truly care about the students. Being able to make the "light bulb" come on for them during a lesson is one of the greatest feelings in the world to me. Also, the positive impact that a teacher can have on a student is one of the things that keeps me in this profession. My wife Kayla and I have two children, a son that is 7 and a daughter that is 4. Outside of work my two greatest passions are to hunt and to cook for my family and friends."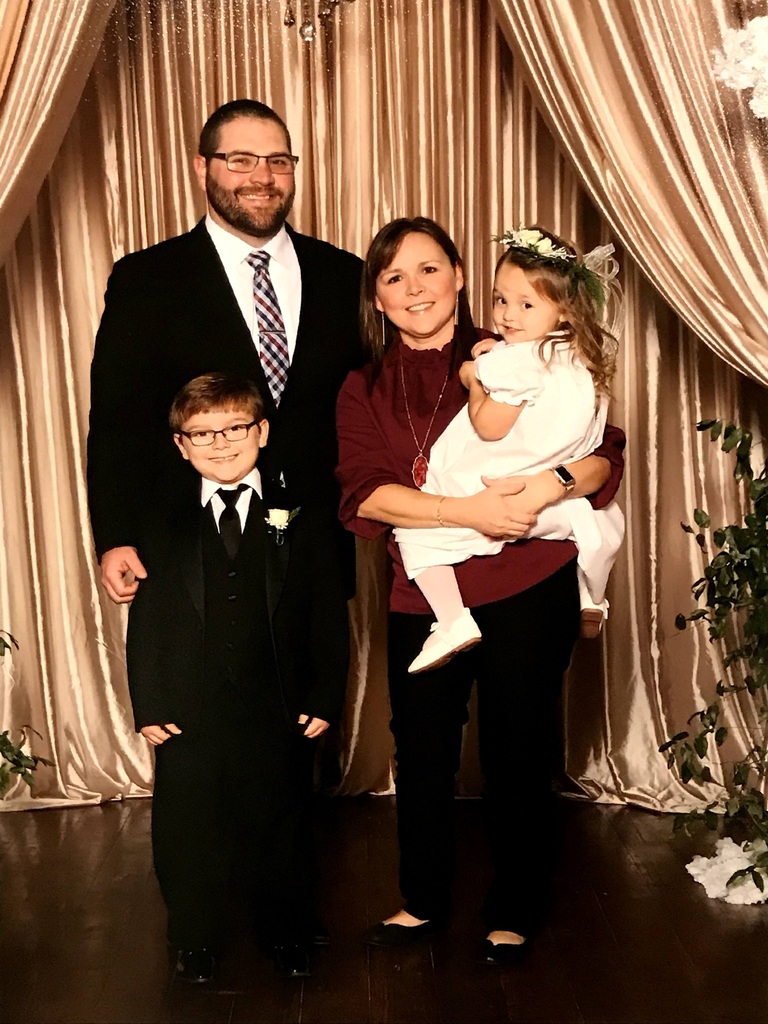 *SUPPORT SERVICES SPOTLIGHT* Erika Bennett is the 2nd grade inclusion teacher for Winona Elementary School. She and her husband live in Kilmichael with their three children - Ty (7) Eliza (5) and Nora (2). "My kids and I are part of the Winona Montgomery County Consolidated School District This is my 9th year teaching. I have taught multiple grade levels from preschool to sixth grade both general education and special education. My favorite part of teaching at Winona Elementary is the encouraging community of faculty and staff."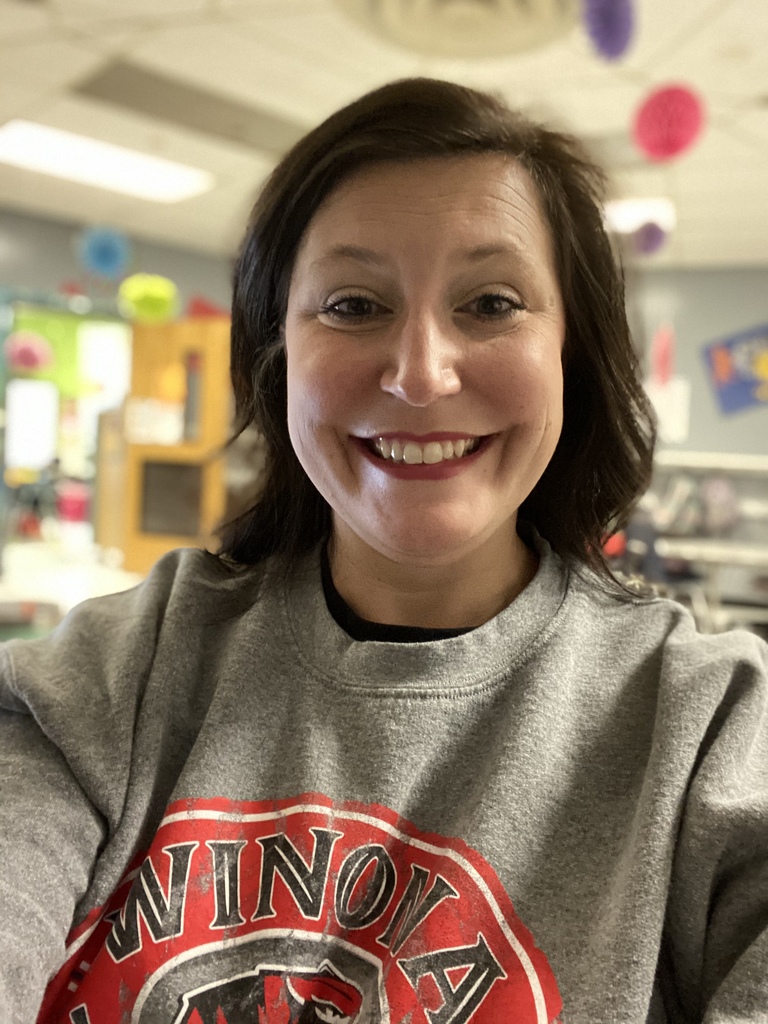 *SUPPORT SERVICES SPOTLIGHT* Lauren Matura is completing her second year at WES. She is an instructional assistant in the BOOST class. "I absolutely love what I do. I am blessed to work with such special children. I am currently working on getting my license in special education- mild and moderate disabilities. I have always wanted to work with children for as long as I can remember. I enjoy reading and spending time with family and friends. It's always a great day to be a tiger!! "

*SUPPORT SERVICES SPOTLIGHT* Patricia Newman is an instructional assistant at Winona Elementary School. She has been an instructional assistant for 25 years. She has helped to teach all subjects, and especially enjoyed the stories in the second grade reading books that Mrs. Betty Austin and she taught from so many years ago. Some of her most memorable stories were "Blueberries for Sal" and "Through Grandpa's Eyes." "I would like to drive through different states and see the sights. Spending time with my grandchildren and other family members is something I also enjoy very much. I've been married for many years, have two adult children and also am a proud grandmother. My hobbies are sewing, dancing, and reading. One favorite thing about my school is that it only takes me about ten minutes to get to work. Also, I am proud to be a staff member where teachers are dedicated to inspiring students to do well and keep their academic goals on track. "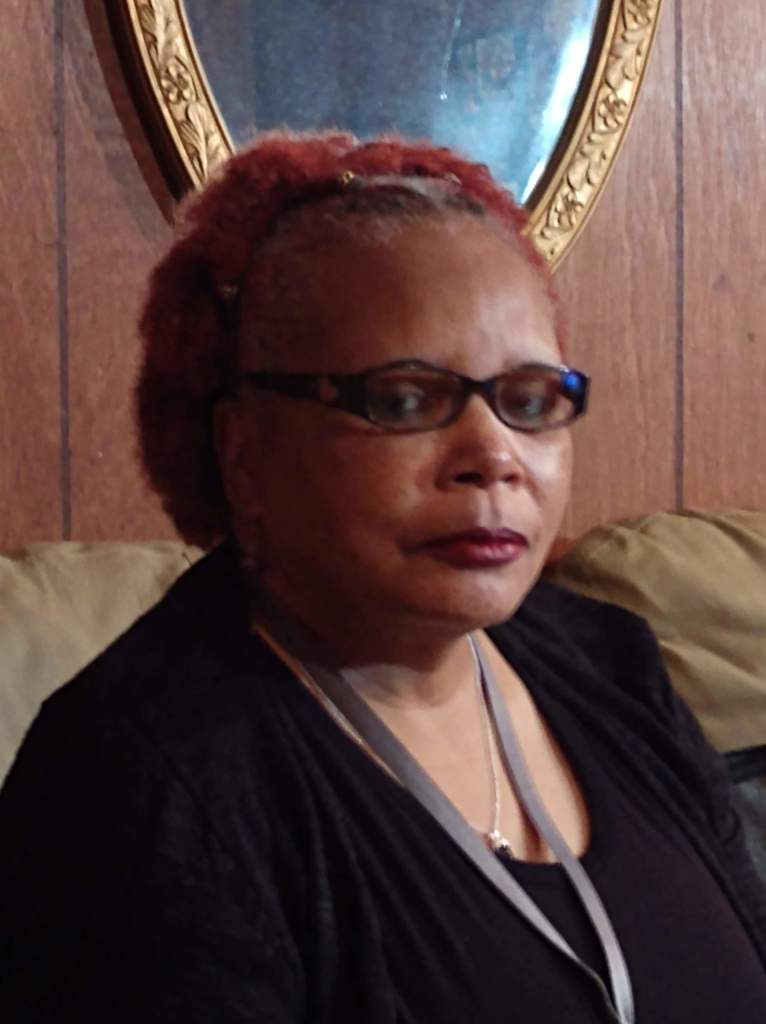 *SUPPORT SERVICES SPOTLIGHT* Ann-Marie Edwards is in her second year of teaching at Winona Elementary School. She teaches 4th grade inclusion classes at WES. "I graduated from The University of Mississippi in 2016, with a bachelor's degree in Social Work. I am currently finishing up my alternate route internship in education at William Carey University. I have taught both second and fourth grade inclusion during my time at WES. I have been married for two and a half years to my husband Clint Edwards and together we have a beautiful two-year-old son named Brantley. I enjoy spending time with my family and friends. Some of my favorite things about teaching are watching my students grow and helping them achieve their goals. The faculty and staff at WES have been wonderful at welcoming me into the tiger family and I have learned a great deal since joining the WES team."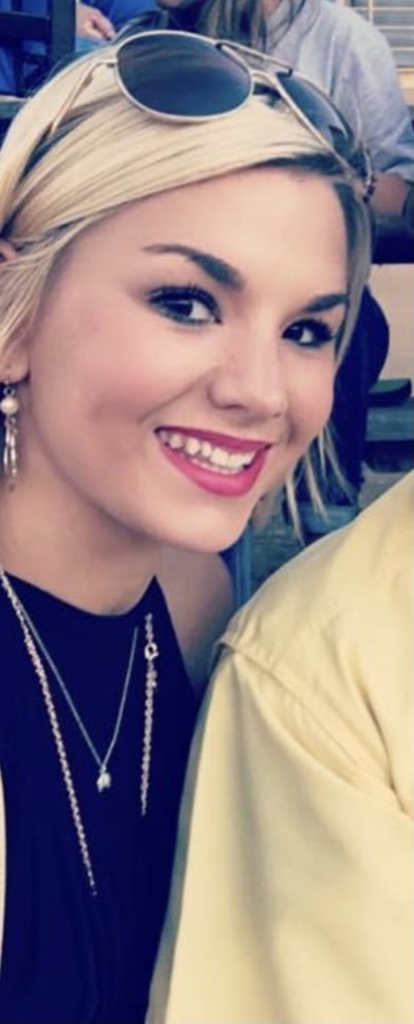 *SUPPORT SERVICES SPOTLIGHT* Howard Phillips is the 9th grade inclusion teacher at Winona Secondary School. He was born and raised in Winona and graduated from Winona High School. He received his bachelor's degree from Delta State. "I began teaching in 2007 and began teaching in Winona in 2012. I am licensed in Social Studies 7-12, Math content 7-12, and Mild to Moderate Disability. I am currently the High School girls basketball coach."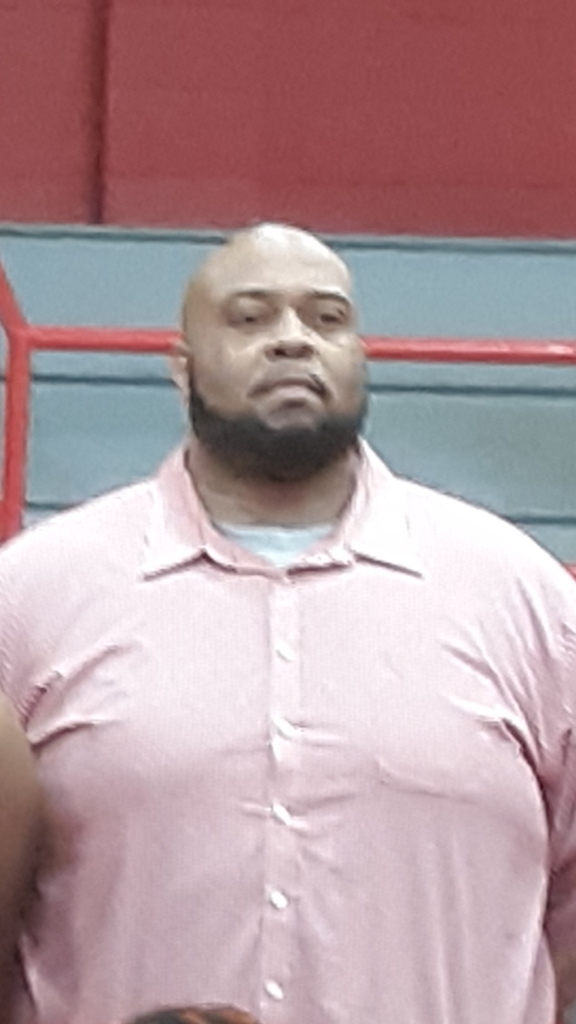 *SUPPORT SERVICES SPOTLIGHT* Caroline Caldwell teaches K and 1st grade inclusion classes at Winona Elementary. On December 1, 2020, she completed 25 years of teaching! She received her Bachelor's degree in Special Education from The University of Mississippi in May 1992, and her Master's degree in Special Education in December 1996. She has taught at Kosciusko Middle School, Carroll County Schools, Winona Elementary, and Winona Secondary. She has taught classes as a Severe-Profound teacher, Resource teacher and an Inclusion teacher - in grades Kindergarten-5th grade, and 7th-10th grade. "One of the many reasons I enjoy teaching in Winona, is the tight-knit relationships that are formed both at school and in the community. All teachers work toward the betterment of all students. I have one son Zachary and two dogs. Zachary is currently enrolled at Texas A&M, majoring in Nuclear Engineering. My basset hound, Henry, is lazy and sloppy. My rescue dog, Lucy, is hyper and prim and proper. Zachary and I enjoy spending time traveling. I enjoy bargain shopping. "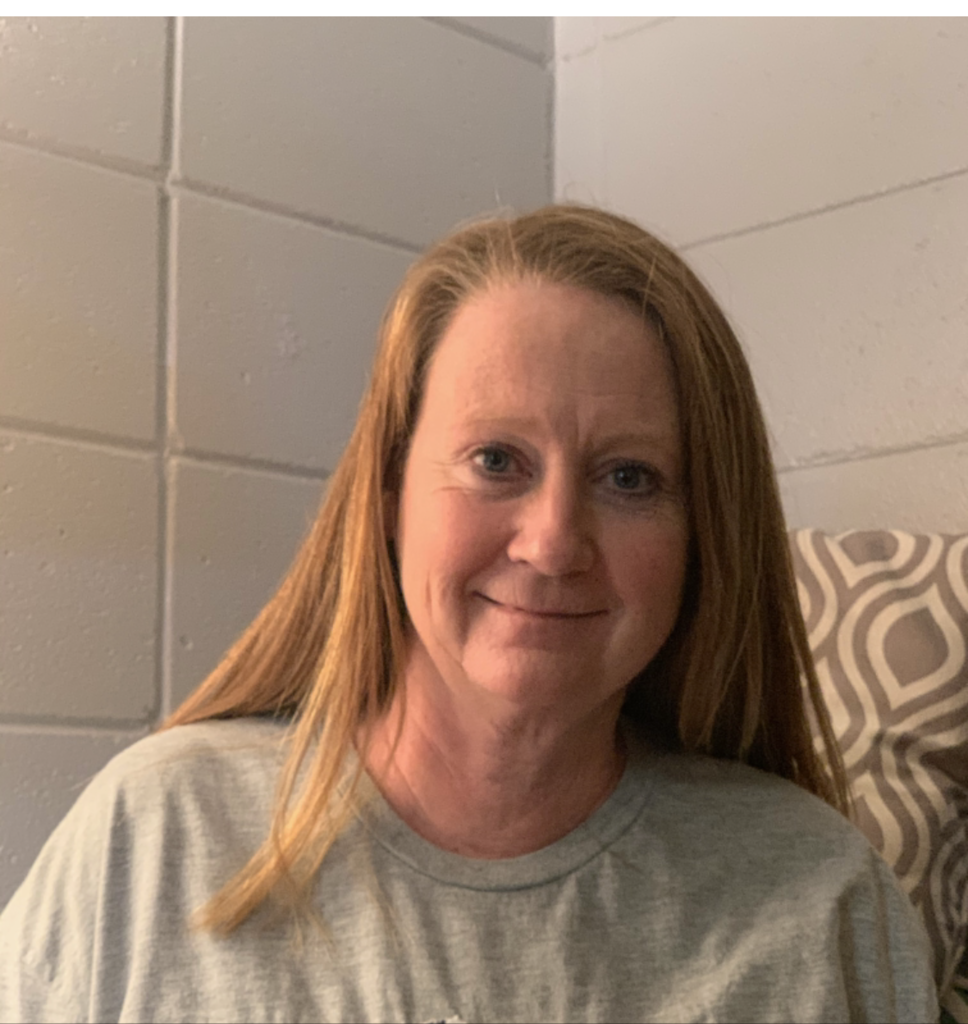 *SUPPORT SERVICES SPOTLIGHT* Edward Penn is in his 9th year of teaching this year. He taught 5th grade science for eight years before moving to 5th grade inclusion this year. "All of my teaching years have been at WES. I graduated from Ole Miss in 2012 with a Bachelor of Ed degree, and received my Master's in Curriculum and Instruction in 2017. I love teaching especially because it allows me to impact the lives of students in a positive and meaningful way. Having the opportunity to be an inclusion teacher has been amazing, as it allows me to work with a smaller group of students. I feel like the sky's the limit in this capacity. My hobbies include photography, travel, and cooking. I especially enjoy traveling to unique places for the purpose of photography."

*SUPPORT SERVICES SPOTLIGHT* Shelia Seals is the teacher for the grades 10-12 grade self-contained class at Winona Secondary School. She has worked in this position for 3 years. She also worked as a kindergarten assistant for 9 years and 3 years as a special education assistant. "I have attended Holmes Community College, Mississippi Valley State University, Mississippi State, Ashford University, and I am currently enrolled in the MAT program at William Carey University. I have 3 children- 2 daughters, 1 daughter-in-law and a son. I also have 2 grandchildren- a granddaughter and a grandson. I love spending time with my family. I also like to read and go on walks in the spring and autumn."