Congratulations to Winona Secondary School's Teacher of the Year Mr. Eric Denmark! Mr. Denmark teaches 7th grade math at WSS. We are lucky to have such an amazing teacher on our staff pushing our students to always be their very best in everything they do! Pictured are; Mr. Mike Guttuso (Assistant Principal) Ms. Donna Bishop (Head Principal), Mr. Eric Denmark (7th math Teacher), Dr. Teresa Jackson (WMCSD Superintendent) and Mr. Keegan Love (Assistant Principal)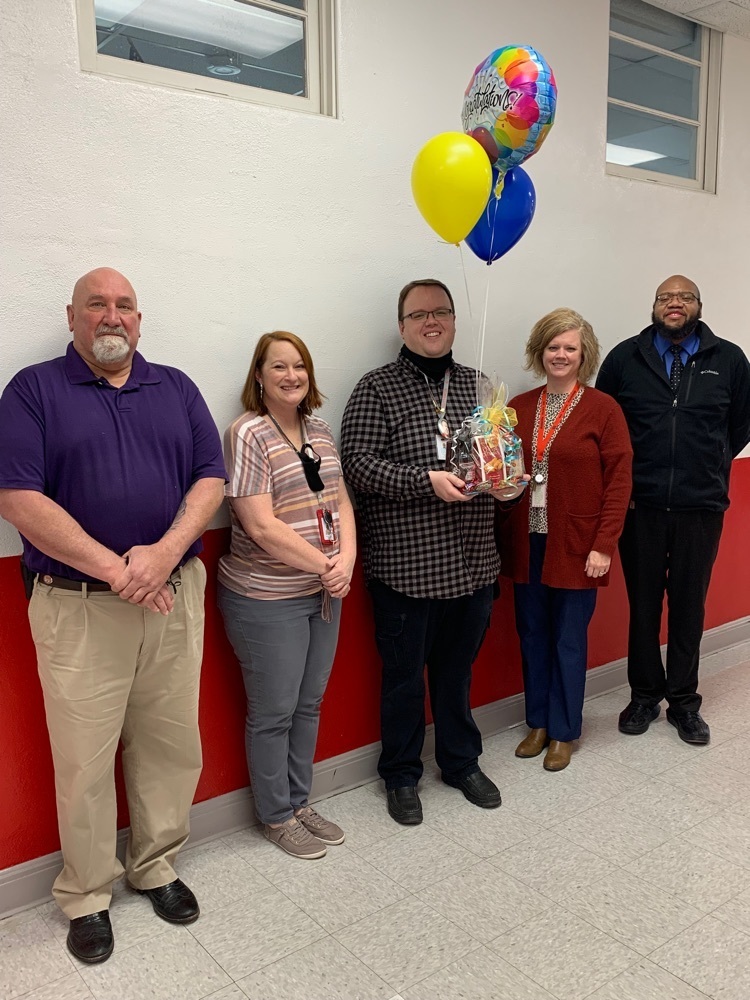 Congratulations to our WSS grades 7-8 First Semester Honor Roll Students! The students enjoyed a little time out of class on Friday to enjoy a cupcake and drink to thank them for their hard work!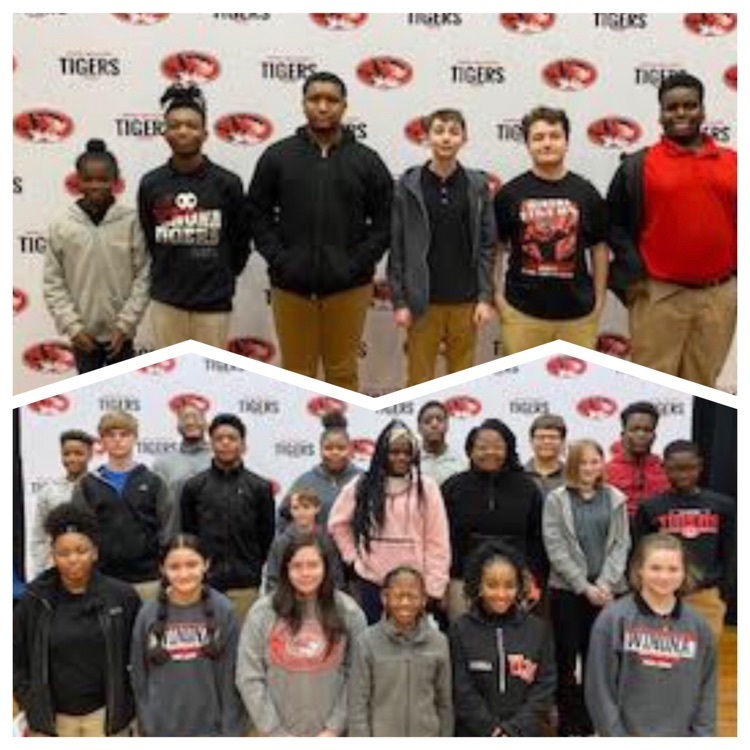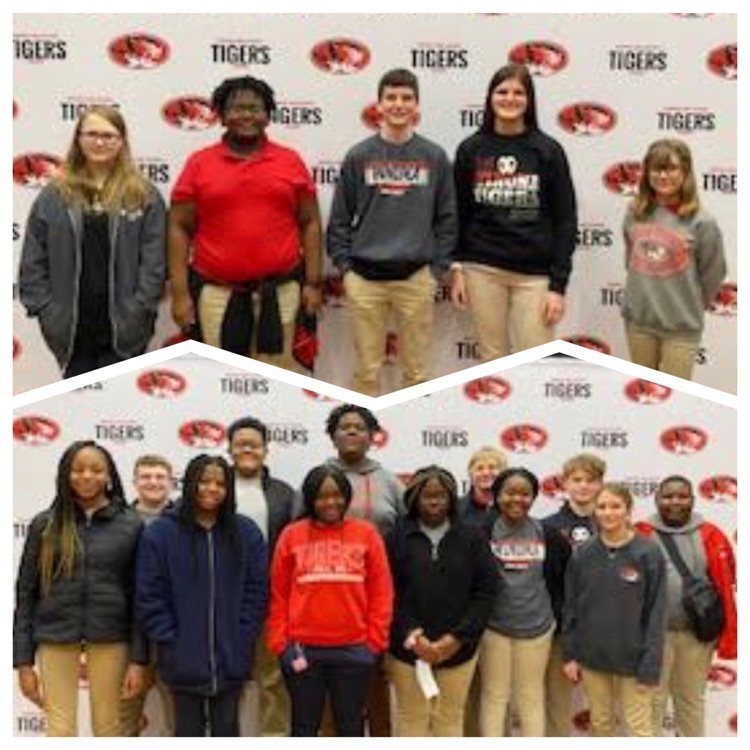 Congratulations to our WSS grades 9-12 First semester Honor Roll Students! The students enjoyed a little time out of class to enjoy a cupcake and drink on Friday to thank the students for all their hard work!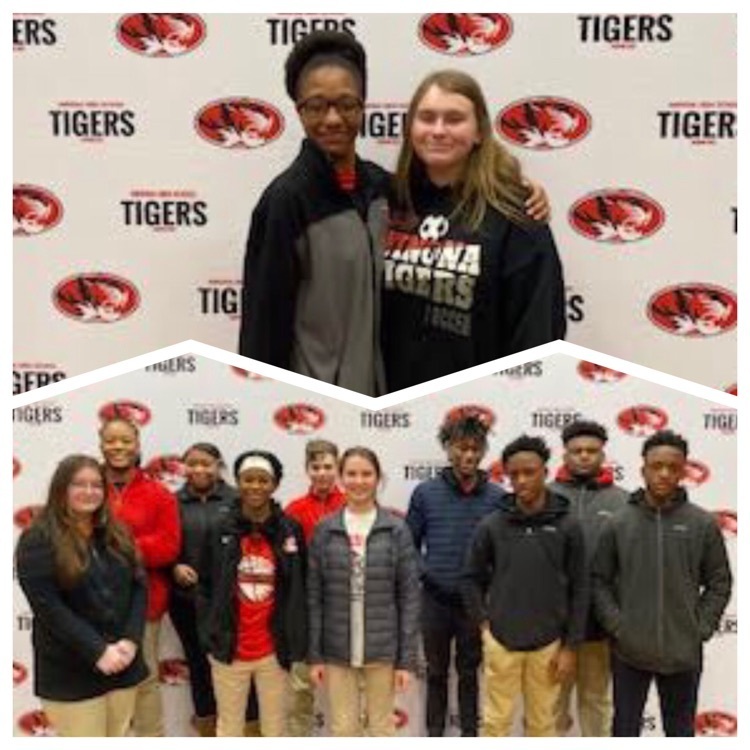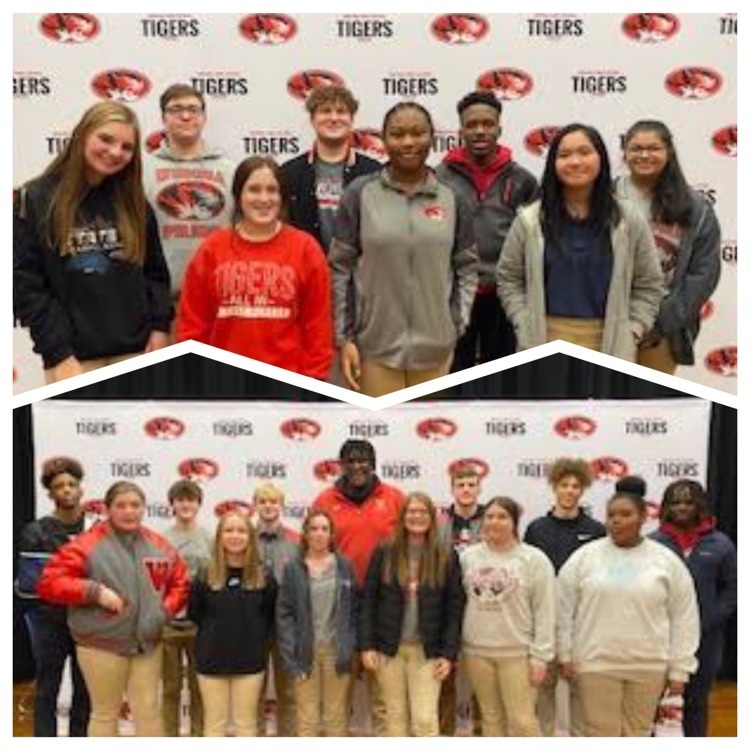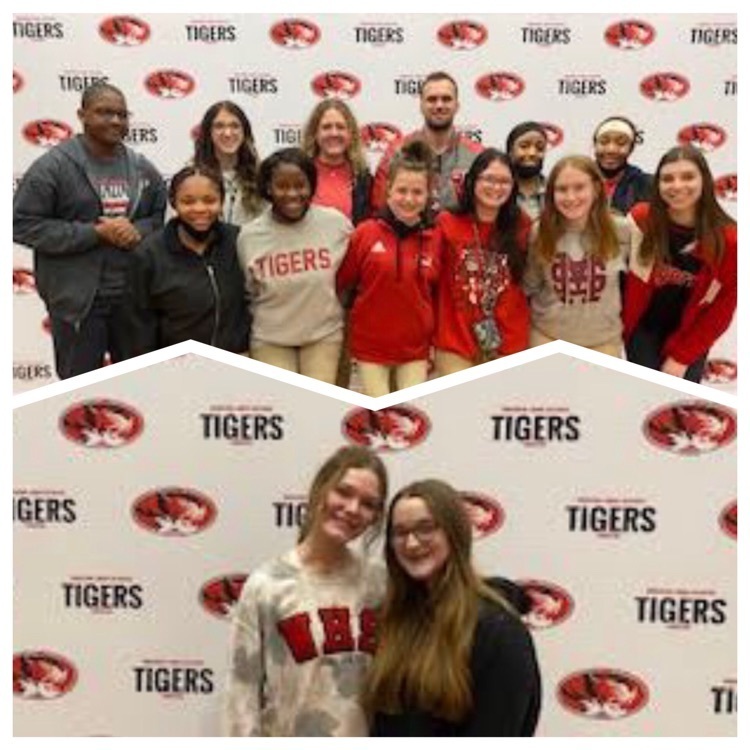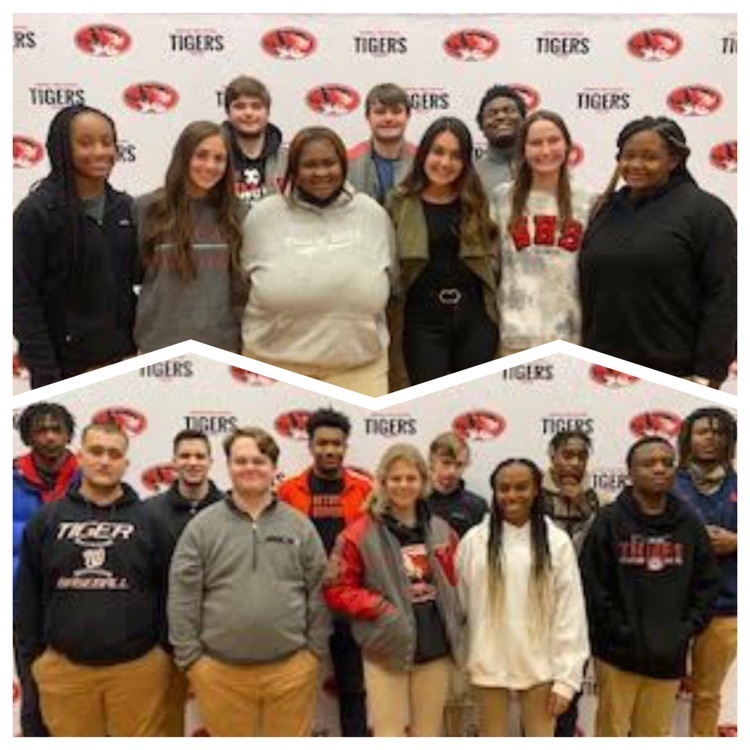 From MSPTI (MS Parent Training and Information Center Project): Let's talk about the importance of self-advocacy, what families/parents can do to help youth with planning for the future. The message of the session is simple: Access to information and resources will strengthen families'/parents' ability to participate in the process and improve transition into the community for youth and young adults. January 25, 11:00am - 11:30am
https://register.gotowebinar.com/rt/6571930952829882128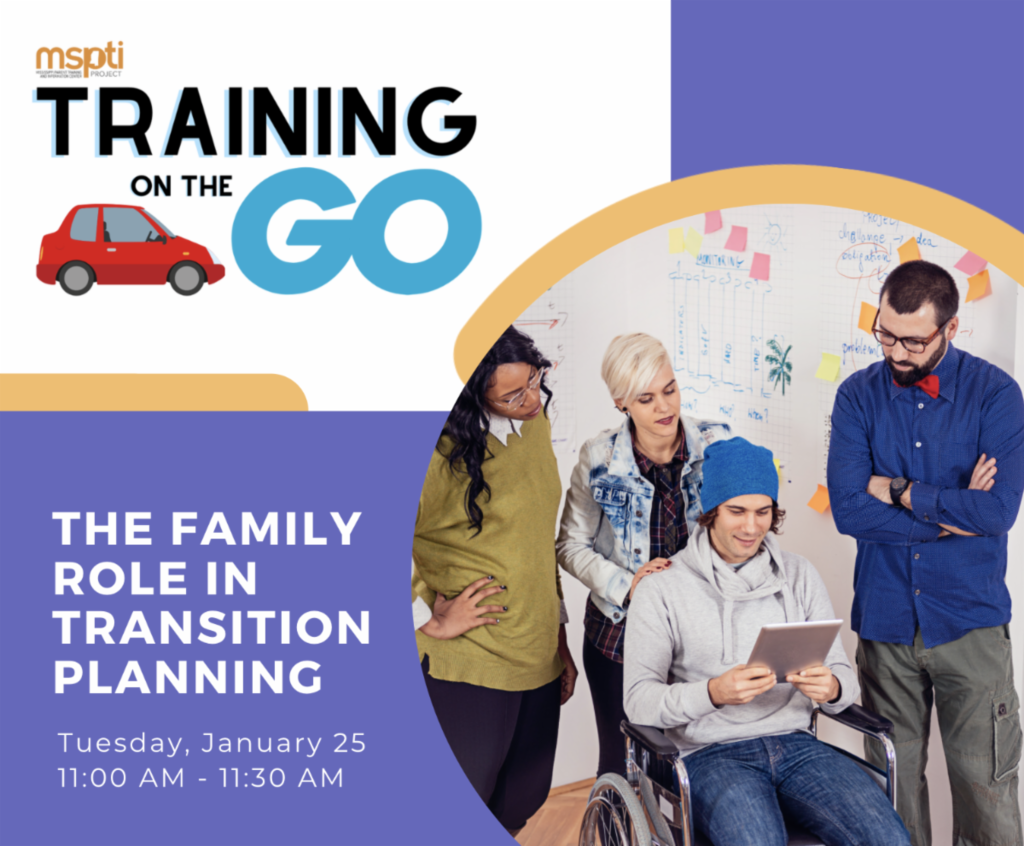 From the Office of Support Services: State Performance Plan Stakeholder Engagement Family engagement is an empowering partnership among families, educators, practitioners and the community with shared responsibility for the personal success of children and youth. Each year the Mississippi Department of Education, Office of Special Education must report its plan for improving outcomes for students with disabilities to the United States Department of Education, Office of Special Education Programs. As we prepare to make that submission for 2022, we would love to have hear from you! Parent feedback is an integral part of developing Mississippi's State Performance Plan. Please join us during any of the virtual meetings listed below to provide feedback and get an overview of the State Performance Plan. If you have any questions regarding these meetings, please contact Darrell Latham (
dlatham@mdek12.org
) or Minnia Winters (
mwinters@mdek12.org
). You can also reach Darrell or Minnia at 601-359-3498.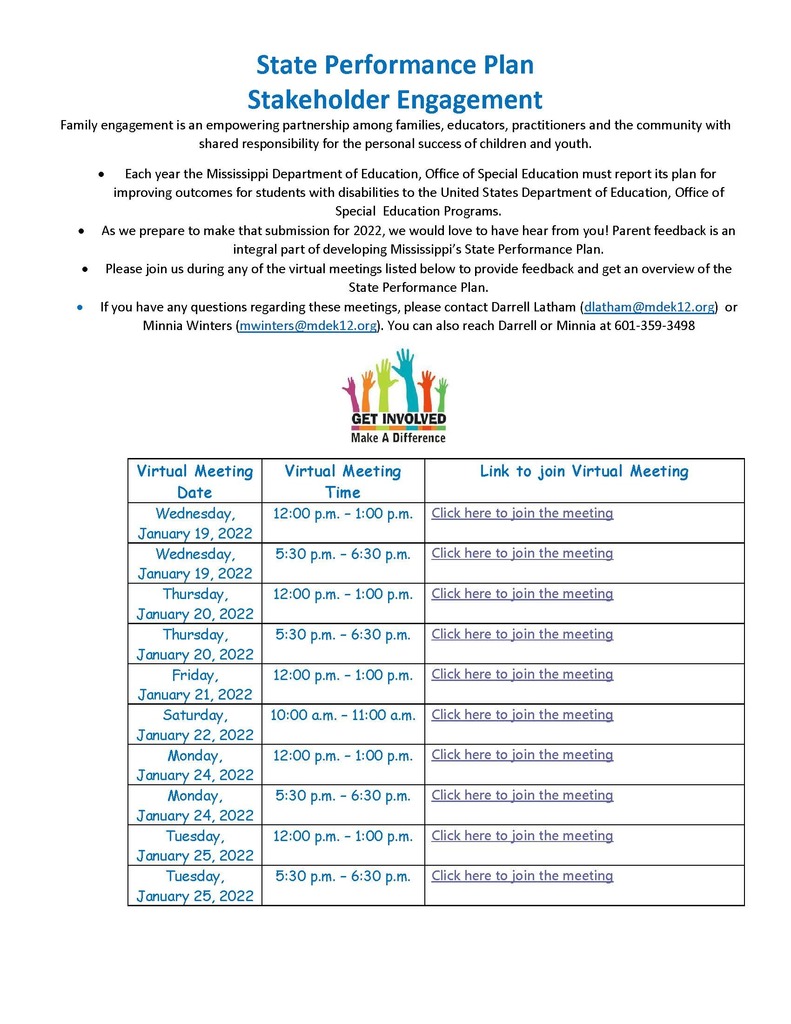 Attention All Fans: MASKS will be required at ALL INDOOR events for WMCSD until further notice. This will include tonight's game at Knox Gym.

From the Office of Support Services: If you know someone (age 14 to adulthood) that could benefit from growing life and career skills, then check out this opportunity at Mississippi State University! Designed with individuals with disabilities in mind and would be perfect for students who are in secondary education classrooms or for students who have exited high school (a diploma is not required). Spring semester begins January 18th, so hurry, and watch this short video for more information.
https://youtu.be/hFut5dNz34Y
**Note: For Mississippi residents, there are options for full financial sponsorship for ACCESS Online courses through MDRS (for clients in secondary education and post-secondary). If you are a client, contact your counselor to find out more. If you're not an MDRS client, consider becoming an MDRS client by going to
https://www.mdrs.ms.gov/Pages/Request-Services.aspx
and filling out this short form. Please feel free to email
slm244@msstate.edu
or call 662-546-0755 if you have any questions or concerns! Stacy Jackson


WMCSD would like to take a minute today and thank our school resource officers, Chief Mac Burrell (WSS) and Officer Dan Herod (WES) for all that they do to keep our schools safe!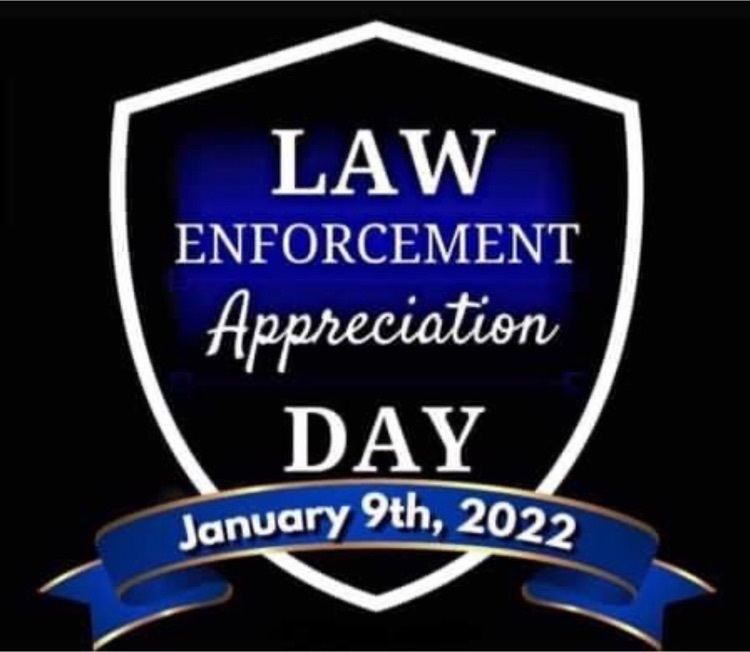 ACT WALL of FAME Alert! We've added 9 more people to the 20+ ACT Club and 1 more to the 30+ ACT Club as of the December administration of the ACT! Congratulations to all of you on the wall! There is still room for more!

Last week we had "visitors from England" in the building along with the famous Geoffrey Chaucer. Students in Mrs. Maloney's, aka Geoffrey Chaucer's, Senior English classes enjoyed dressing as their favorite characters from The Canterbury Tales. The students did a fabulous job!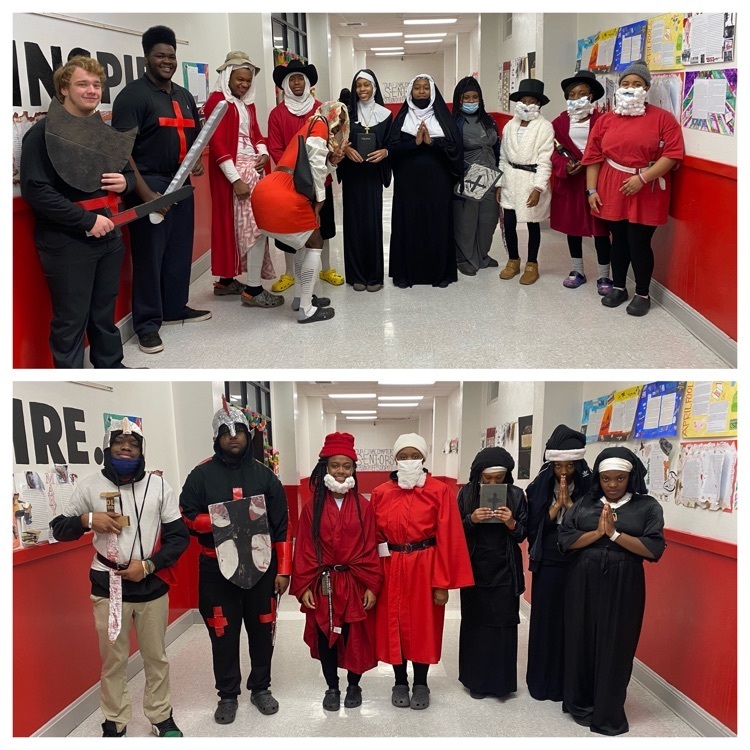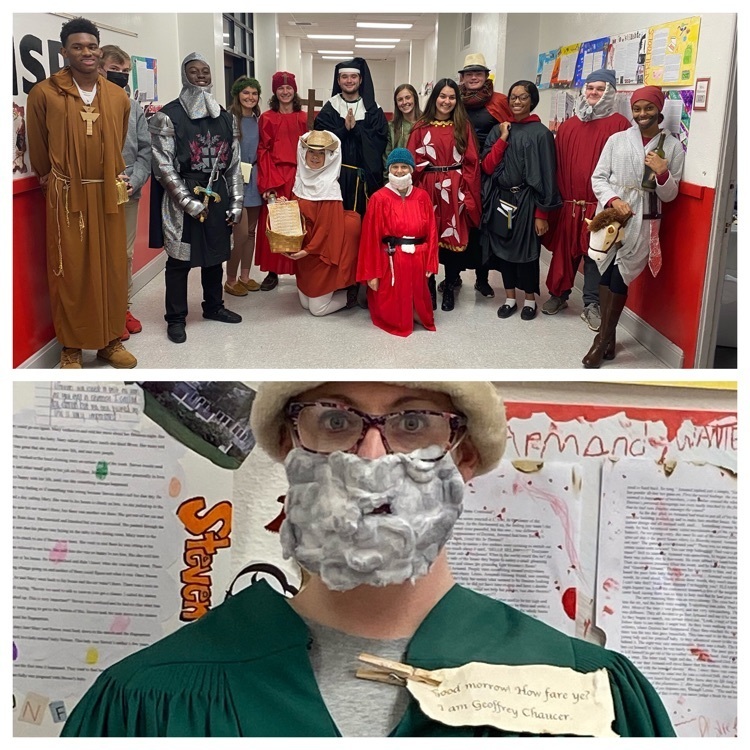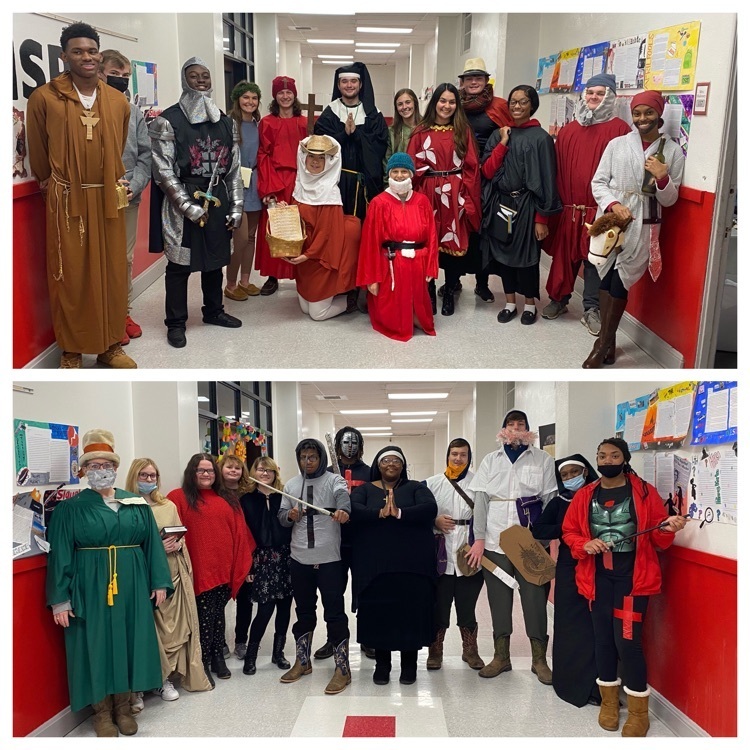 WES students held a canned food drive for Mission Hope. Thanks to our 6th graders for organizing the canned food.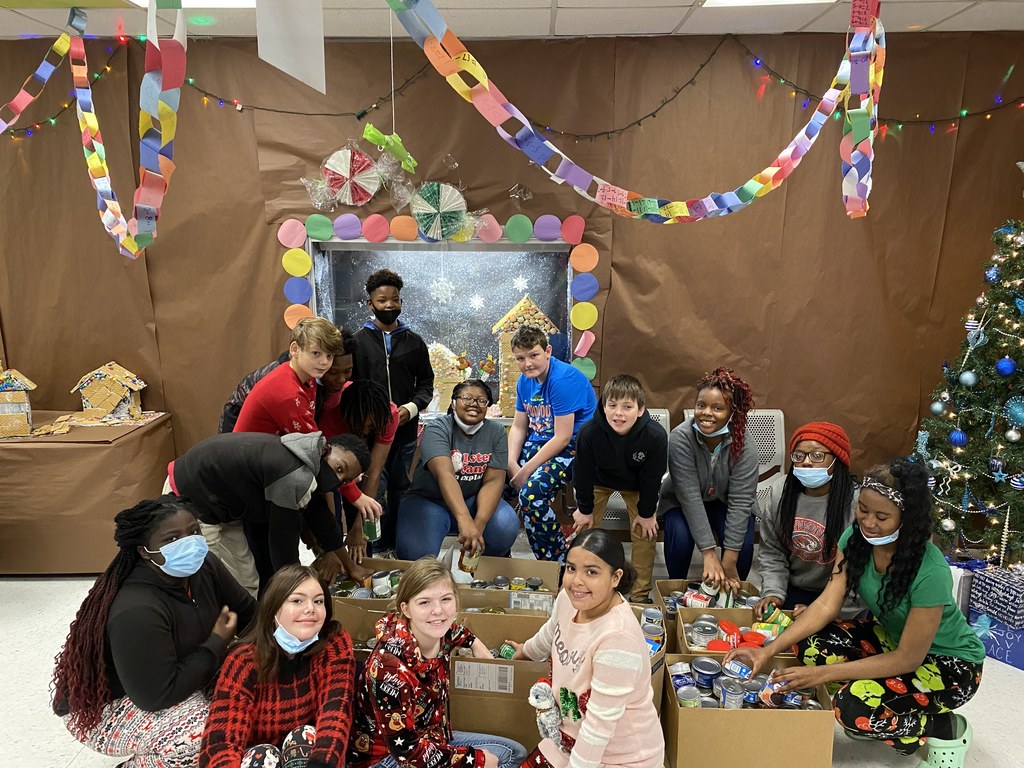 WES Students had a special treat of hot chocolate today. They also enjoyed looking at the pretty Christmas Trees in the Front Lobby.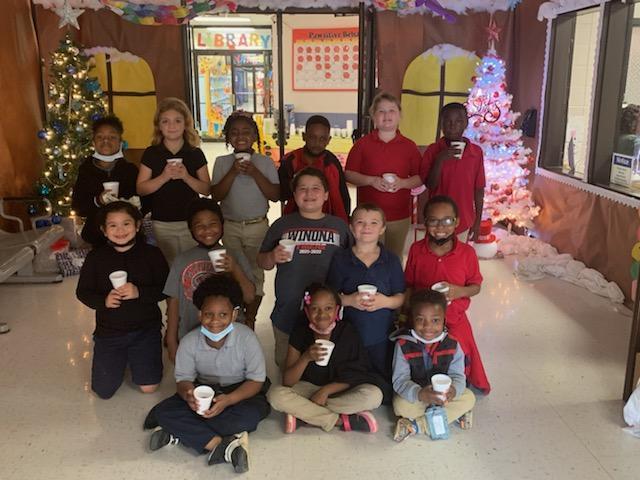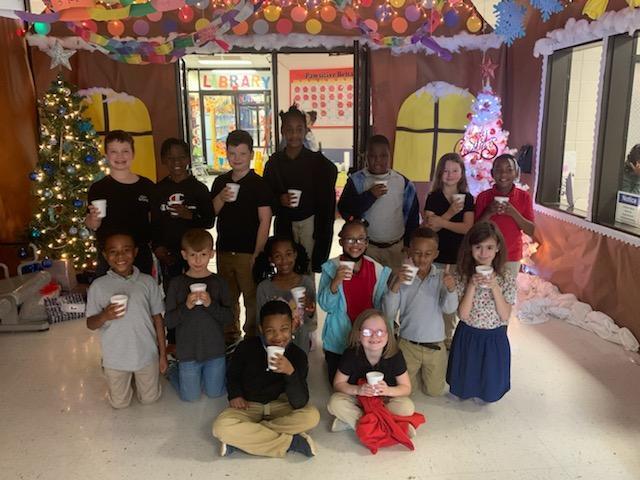 From the MS Parent Training and Information Center Project: Positive Solutions for Families of Young Children with Challenging Behaviors Has life with your young child become filled with conflict and confusion? Does it seem as if the simplest activity can quickly turn into disaster when your child's behavior is out of control? You are not alone! Many, if not most, parents find themselves struggling with behavior at some point. The good news is that there are evidence based, effective strategies (Positive Behavior Interventions and Supports -PBIS) that you can use to create POSITIVE and LASTING solutions for your family. JOIN US! Presented by: Patty Gautier, Family, Data & Dissemination Coordinator, REACH MS  December 20th, 12:00pm - 1:00pm
https://register.gotowebinar.com/register/8188109690477150990
*This event is not sponsored or endorsed by WMCSD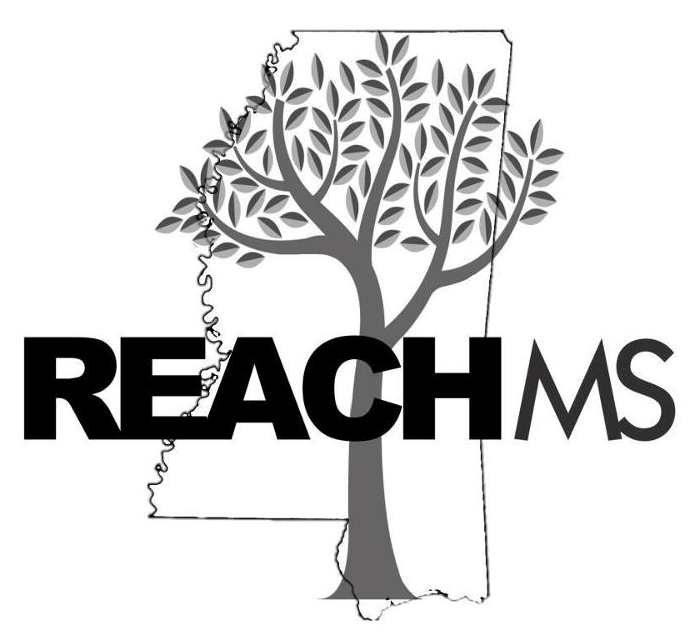 We had a wonderful night at Family Literacy Night! Thank you to everyone who participated.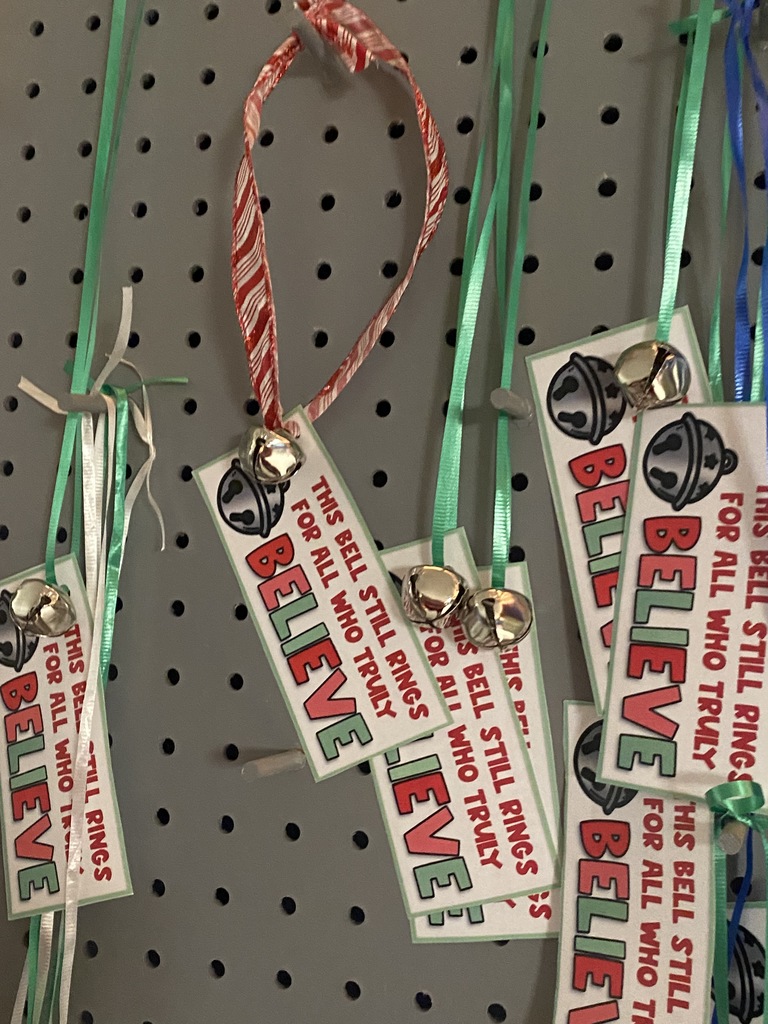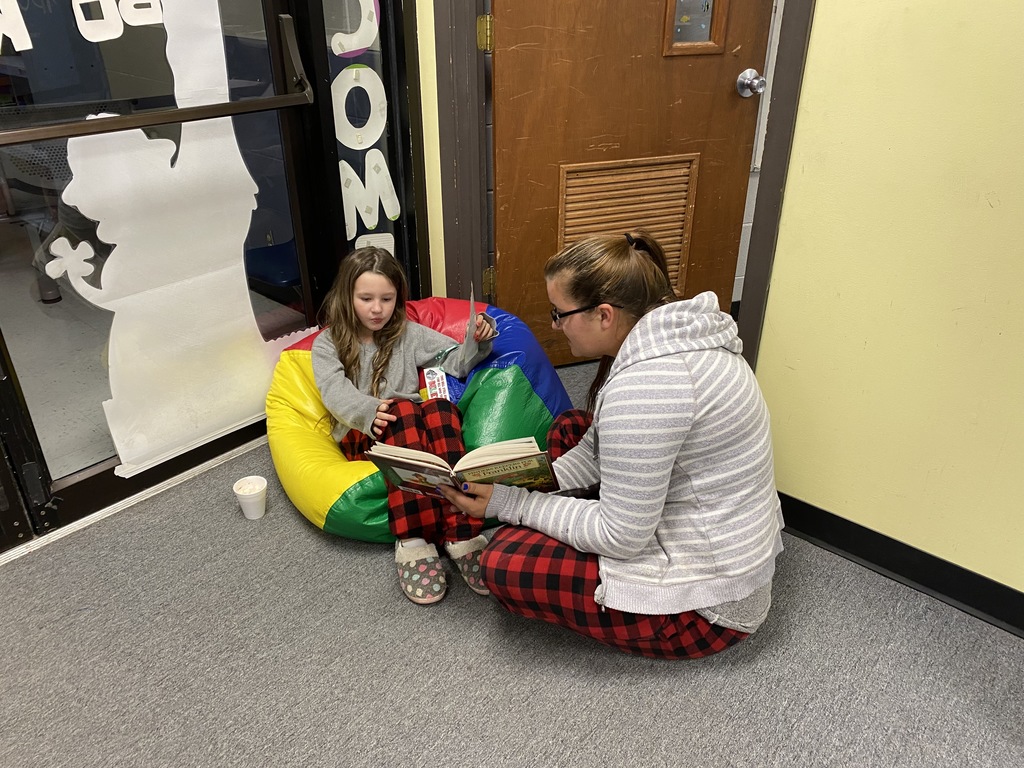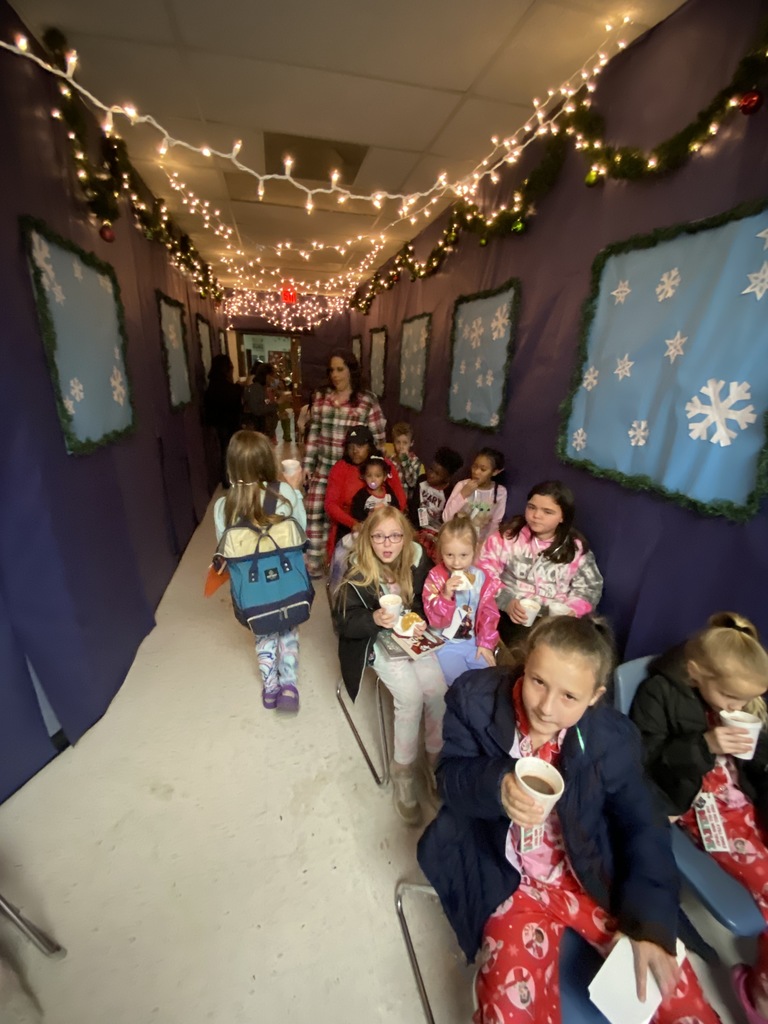 Tuesday, 12/07/2021, Winona Secondary School students will be released at approximately 10:00am due to the lack of electricity. There is no internet or phone service at any school or district location. If you have questions, please email us at
tigertalk@winonaschools.net
. Dr. Teresa Jackson, Superintendent

Winona Secondary School is currently without electricity. This also affects internet and telephone service. Every effort is being made to restore electricity in a timely manner. If it becomes necessary to release the 7-12th students, an announcement will be made before 10:00am.
The students at WES had a visitor today!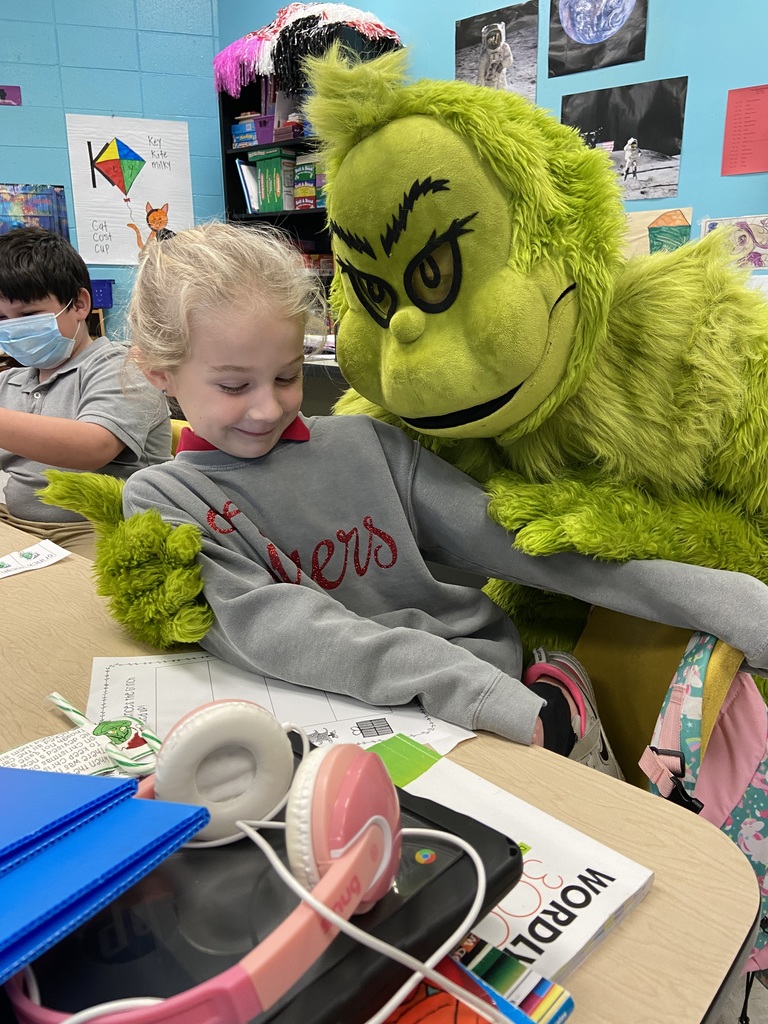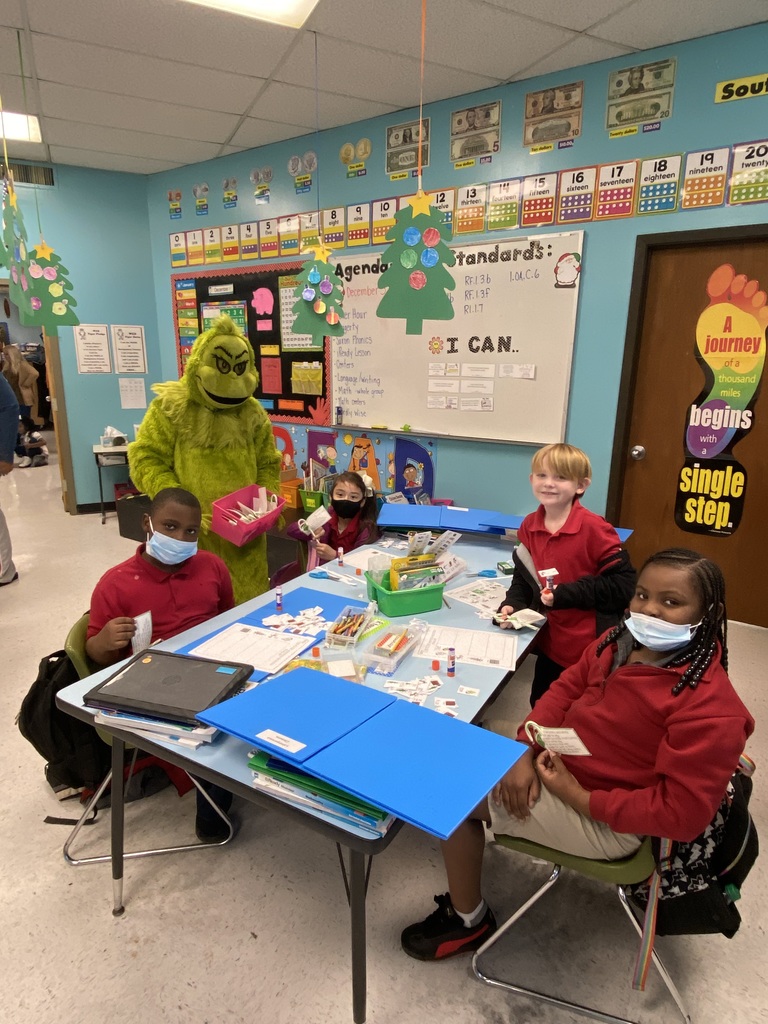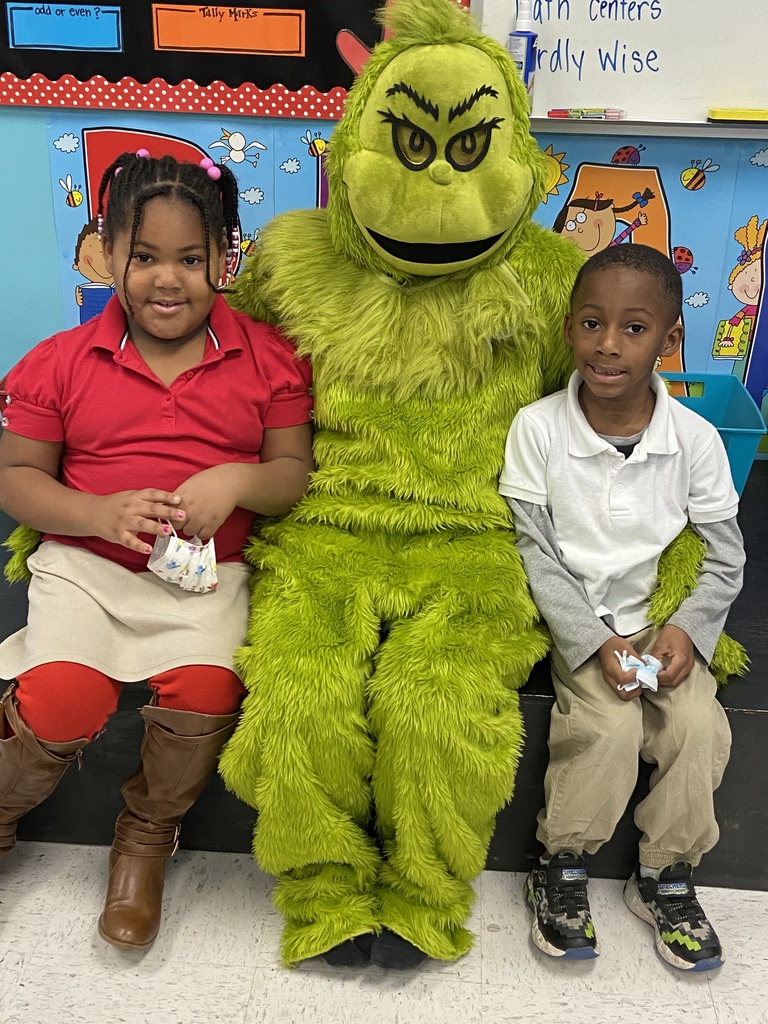 Family Night!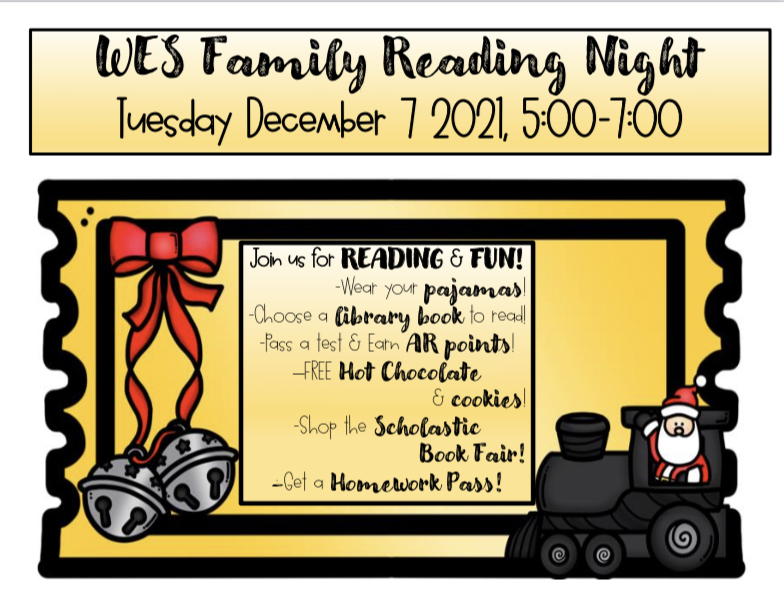 Students of the Month for November!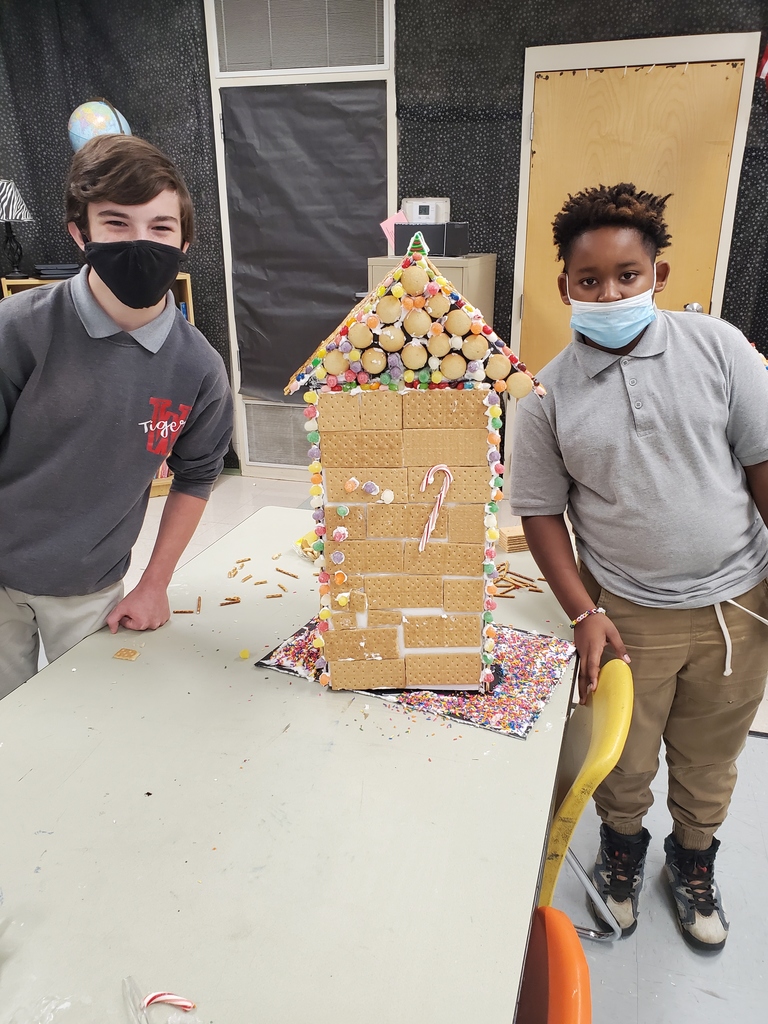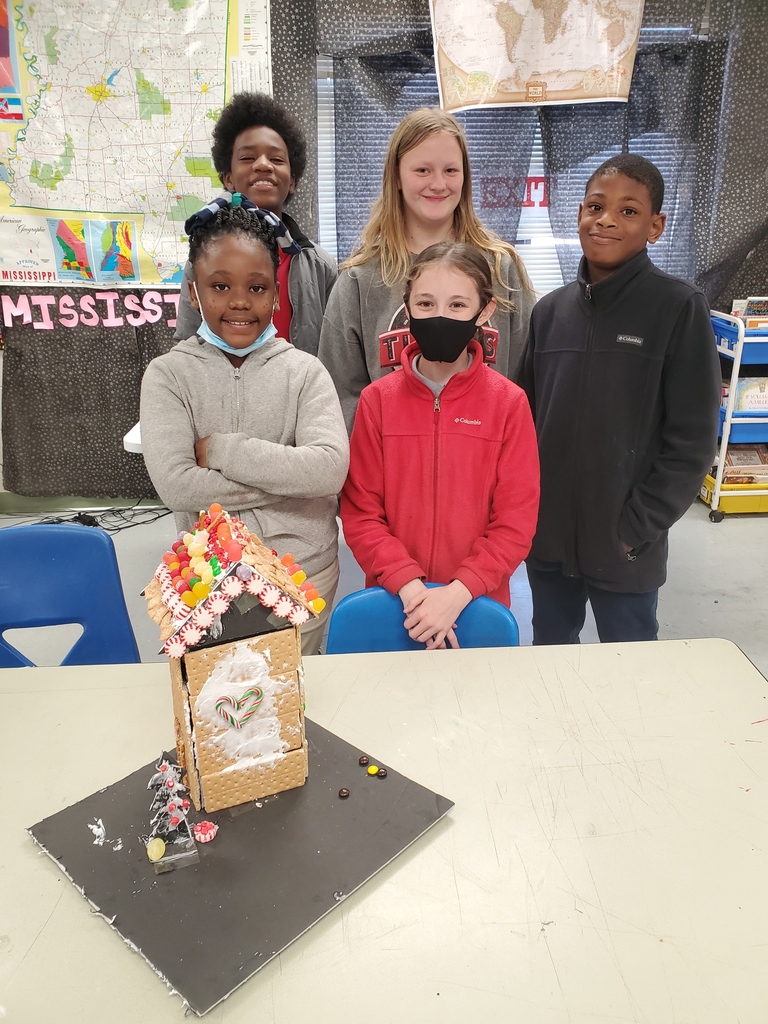 The Holiday Season has officially kicked off at WES. Mrs. Mims' class dressed like Thanksgiving turkeys and the Students of the Month decorated gingerbread houses today.